Celebrities will always do things bigger and better than the rest of us, and wedding gifts are no exception. Although we probably wish we could give our newly betrothed a new house, car, or private jet, we usually have to settle for something a little less grandiose. Although not every man or woman cares for amazing and expensive presents, things are different in the celeb world! If you're an actor, rock star, or even royalty, expectations are a lot more different in this realm, as you're likely going to have the cash to splash.

Therefore, we thought we'd make a list covering just what exactly these luminaries hand out after the wedding ceremony. Here are some of the most extravagant and luxurious presents that celebrity newlyweds have given each other.


Keira Knightley and James Righton
We actually think this is kind of a sweet idea. Rocker James Righton surprised his new bride, Keira Knightley, with an olive tree that was over 100 years old. He engraved their names on the tree and it is currently planted at her French villa. The gift ended up being be about $5,000.

Kate Middleton and Prince William
Of course when you're royalty, you can expect gifts that are a little more regal. Given from the perfumer himself, Clive Christian, the royal couple received a His and Hers set of Clive Christian's No. 1 Imperial Majesty Edition (this perfume exists in the Guinness Book of World Records as the most expensive perfume in the world, with the ingredients costing around $2,350 per oz). The bottles themselves containing this lavish elixir are works of art, decorated with a 24-carat gold collar, these are beautifully presented in a satin lined case and are adorned with a coat of arms embroidered in gold. The estimated price for this gift is around $500,000.
To top it all off, apparently Will and Kate were also given a guarantee of sunshine for the big day that runs for around $152,320.

Angelina Jolie and Brad Pitt
Angelina Jolie lovingly bought husband Brad Pitt a $3 million platinum 1952 Patek Phillippe wrist watch. Talk about a statement piece! Of course opulent timepieces are a rather timeless wedding gift, especially as a personal gift from the bride to the groom. And as luxury retailers like Chrono24 make such timepieces easily accessible for you and me – though for a lot less than three million – this is indeed a wedding gift trend that we will see repeated for anyone, not just celebs.

George Clooney and Amal Alamuddin
As if marrying George Clooney isn't a gift enough in itself, the smitten groom graced his beautiful bride with a nearly $15 million mansion in the English countryside. The house, located on a Sonning Eye island by the River Thames in Berkshire, was apparently also their honeymoon destination, as the couple was spotted in a local pub.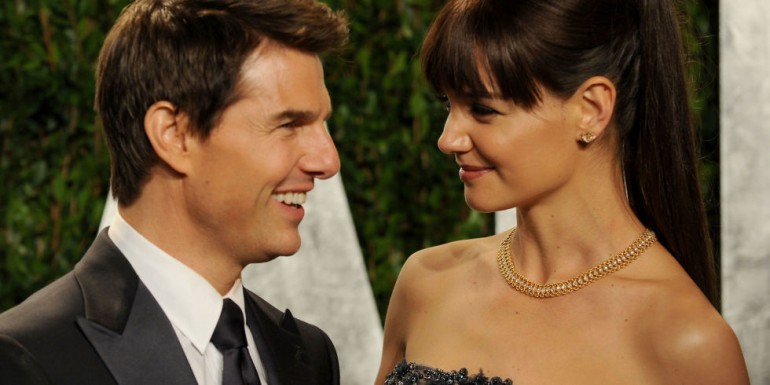 Tom Cruise and Katie Holmes
Tom Cruise was literally jumping for joy to marry Katie Holmes, as no one will forget the infamous couch moment on Oprah. Having to top the $275,000 engagement ring that he gave her, the logical wedding present was of course a personal jet that is estimated to have cost between $14 million to $20 million.