Okeanos Aquascaping, a New York-based high-end aquarium and pond design firm, recently earned a spot on the Robb Report's list of most exclusive holiday gifts with their backyard pool-and-aquarium complex. Starting at $11 million (yes, you read it right), the water complex design features a 30-foot-by-60-foot freshwater swimming pool that shares two of its walls with a massive acrylic saltwater aquarium. Thus with something like this, the swimmer will virtually swim alongside angelfish, eels, and black-tip reef sharks. The best part here is one can even view the aquarium from outside the pool, for it stretches from the floor of the pool to 15 feet above its surface. The aquarium is reported to be the Okeanos' largest, and the pool will be the first undertaking of its kind by the company's new division, Okeanos Swim.

Okeanos Swim's creations' key component is the integrated use of chemical-free water in the pool, which the makers have achieved by combining proprietary handmade filtration and water-flow systems. Their innovative method ensures that the water is, at all times, free from harmful bacteria and organic matter without the use of conventional chemicals like chlorine. Once you send in a request, their teams will take as much as five months to complete the customization here, including tailoring the layout and design of the pool, aquarium, and surrounding landscape and furnishings to the client's preferences. So if you have $11 million and more lying around, this aquatic display embellishment will surely uplift the beauty of your backyard.
The aquatic complex is available to one Robb Report reader, who must provide the land on which it will be built. Routine maintenance fees and the cost of sustaining marine life are not included in the price of the gift.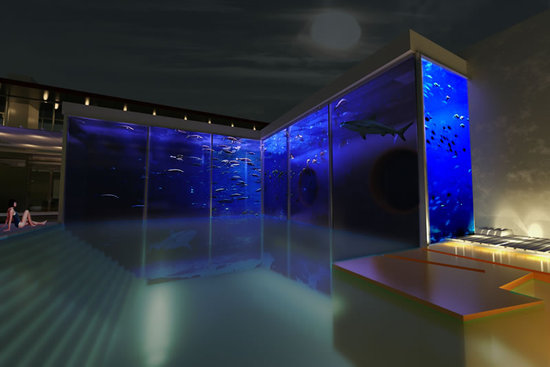 [Okeanos group via Robb Report]