This is it! Behold the 2023 Porsche 911 GT3 RS which has finally been revealed after months of teasers and spy shots circulating the internet. And we can confirm that it is just as crazy and exciting as everyone expected it to be. The 992-generation track-focused Porsche 911 arrives with substantial upgrades to its cooling and aerodynamic package in comparison to its predecessor. The extent of aerodynamic trickery at work to keep the GT3 RS glued to the tarmac is simply staggering. Just about every panel of the sports car is fitted with some kind of aerodynamic element.



The frunk features a pair of L-shaped vent that extracts the air that is drawn in through the front bumper, while there are tiny winglets ahead of the front wheels and bigger-sized fins behind them. However, the highlight is the gigantic two-deck wing with an electronically adjustable upper section. Its angle can be changed like the F1 DRS drag-reduction device by pressing a button on the steering wheel. Porsche says the mad aerodynamic package of the new GT3 RS can produce a total of 902 lbs. of downforce at 124 mph, which is twice that of its predecessor.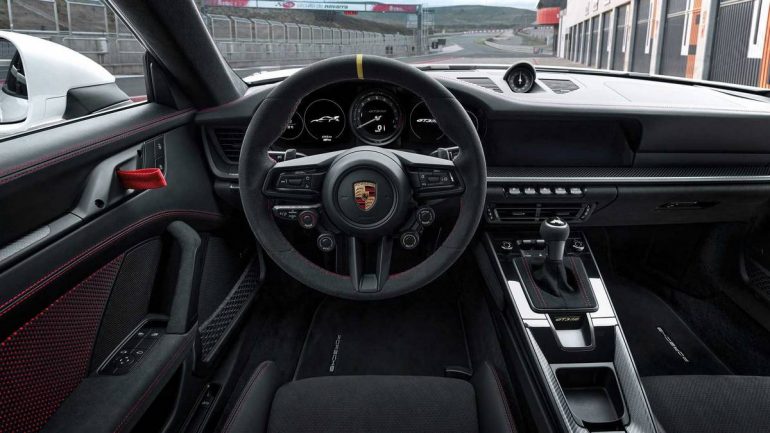 Powering the new Porsche 911 GT3 RS is the German manufacturer's 4.0-liter flat-six which has been upgraded to churn out 518 horsepower, making it the most powerful naturally aspirated 911 ever. But unlike the GT3 which is available with a manual transmission, the RS can only be had with a seven-speed PDK gearbox. According to Porsche, the RS can accelerate from 0 to 60mph in 3 seconds and hit a top speed of 184mph, which is 14mph lower than the GT3 model because of its aggressive aero elements.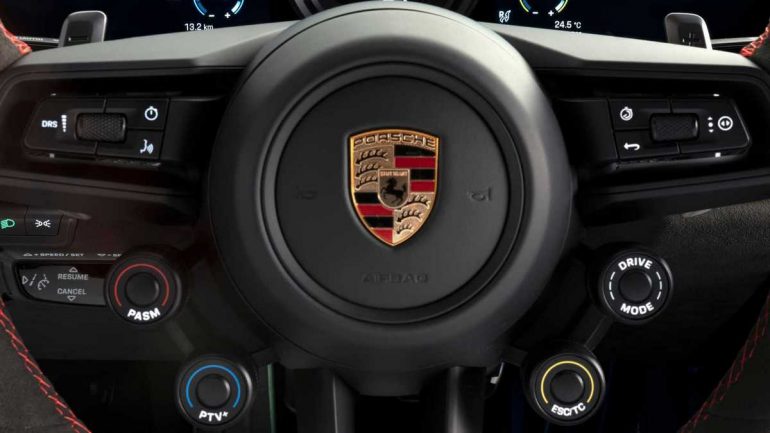 The track-focused 911 is equipped with six-piston front and four-piston rear brakes as standard, while the larger Porsche Ceramic Composite Brake system is available as an option. Buyers will also have the option to go for the Clubsport package at no extra charge, which adds a steel rollover bar, a six-point seatbelt, and a hand-held fire extinguisher. However, it won't be available in the US. The 2023 911 GT3 RS is expected to arrive at US dealers by next spring and will have a starting price of $223,800, excluding the $1,450 destination charge.