Batman fountain pen – The first 500 Batman fountain pens, will be apart of a limited edition box set along with a wrist watch and a pair of cuff links. There are 1939 Batman fountain pens to signify the year when batman made its first appearance. The components of the pen are made of aluminium with a black anodized finish, and the clip and decorative rings are fashioned from ruthenium-plated brass. The colour and the materials used are meticulously thought over as they provide the dark grey hue which is the colour of Batman's original costume. The surface has engravings of bats in flight and the rhodium plated 18k gold nib also bears the bat logo.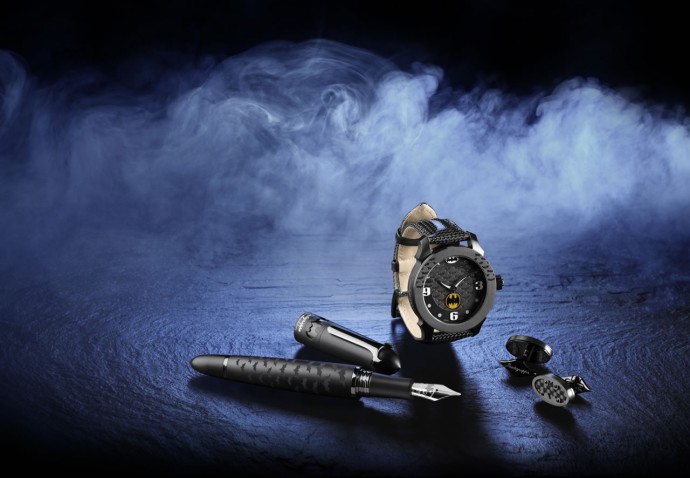 Batman cuff-links – The cuff-links but obviously are jet black representations of the bat logo in three dimensions, with the bat shape cut out to expose a surface of carbon fiber. The folding grip has the Montegrappa name on it.
Batman wrist watch – Based on the Montegrappa's NeroUno watches, the watch is powered by a Swiss made Ronda quartz movement which is housed in a 42mm stainless steel case. The case has a black PVD finish and has six screws securing the back. The watch is finished in black with the flying bats pattern that is also on the pen on the bezel and the dial. At the twelve 'o' clock position the oval bat sign is in nickel as well as the numerals of 3,6 and 9. A dot marks the remaining hours and curved blade hands mark the minutes and hours hand. The crown and the sub-dial have the Batman emblem and the Montegrappa logo engraved on the side of the case. A sapphire crystal protects the all black dial and its nickel embellishments. The back has the bat symbol and the relevant serial number of the watch.
The packaging for the Batman limited edition fountain pen will certainly grab eyeballs. The outer boxes are all black with bats in flight and the inner box has a large bat emblem on its lid and the inner lid has a depiction of Gotham City at night.
All this Batman paraphernalia is sure to excite Batman fans and transport them into the realms of Bat cave.
The price of these sets ranges from $5400 to $6500