3) Dedon Island Resort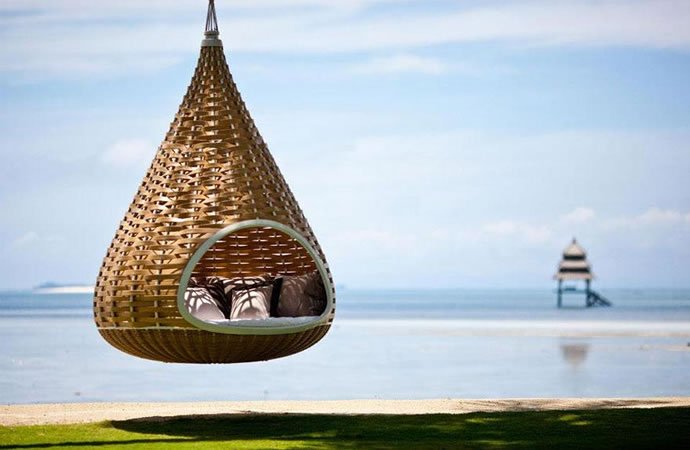 While Dedon Island is one of 7,107 islands in the Philippine archipelago, the resort is where they believe in "bringing our barefoot dreams to life." Their trysts with nature leave little to be desired. The Mangrove and Sea Pagodas that mark the two distinct saltwater ecosystems make favorite guest retreats. Then there is a three-story wooden watchtower overlooking the legendary Cloud 9, as the latter along with lesser-known waves makes the destination a surfer's paradise.


There is plenty of paradise within the resort too. Nine villas integrate seamlessly with the natural environment. Dedon Island Resort or The Outdoor Living Lab also houses four two-story Deluxe Villas featuring an all-glass front façade for basking in the bounty of nature from within. Or you can just step out and for "A Barefoot State of Mind" experience.
[Dedon-Island]
2) Rayavadee Krabi, Thailand


Situated at the heart of the stunning Phranang Peninsular on the edge of Krabi Marine National Park, Rayavadee is almost like a five-star hideaway amidst tropical gardens and coconut groves. Situated on southern Thailand's Andaman coast and surrounded by lush jungle foliage, it is accessible only by sea due to the surrounding cliffs of limestone.


Besides charming access route, the flora, fauna and the clear waters of the Andaman Sea, there are 98 enchanting two-story pavilions and 4 luxurious private villas spread over 26 acres, enhancing the property. Add to that fine cuisine, one of the most unique relaxation spas in Thailand and warm, attentive service and you have yourself a unique atmosphere reminiscent of an idyllic southern Thai village in the midst of all that Krabi luxury.
[Rayavadee]
1) The Manta Resort, Zanzibar


Warning: This resort is adventurous, remote and not for everyone. That boorish statement works to full effect, posing a challenge to any traveller who'd overlook the property in his/her right mind. But aside from that, The Manta Resort serves up the privacy of Pemba with romance, adventure, and water sports. Speaking of the latter, diving here involves untouched coral reefs that make Pemba one of the top dive sites in the world, with one of the healthiest coral reefs in the Indian Ocean, a water temperature averaging at 26ºC and the best visibility in East Africa of 30-40 meters.


But just think, no more mere diving, living in an underwater room with all the oceanic beauty in sight. The resort's private floating island of sorts with a bedroom four meters below the surface offers just that with the option of sunbathing and stargazing on the top deck, lounging and dining on the water deck and sleeping surrounded by tropical marine life. The Manta Resort also offers more excitement by way of activities like the Ngalawa sunset cruise, Ngezi rainforest hike and more.
[The-Manta-Resort]