When Wasabi by Morimoto first opened 15 years ago, the top brass at the Taj Mahal Palace didn't think it would last very long and many senior members of the serving staff were reluctant to come on board. Today, it's one of their most popular restaurants with a surprisingly high number of regulars for a Japanese luxury dining option in a five-star property. The modern Japanese menu created by the world-famous Iron Chef Masaharu Morimoto of Nobu fame fuses world cuisine and traditional Japanese techniques, using the freshest ingredients, some of which are flown down daily from Japan. There is a huge vegetarian selection, a live sushi counter, and teppanyaki station. The fact that there is everything from authentic Japanese food to oriental tacos on the menu seems to be working for them.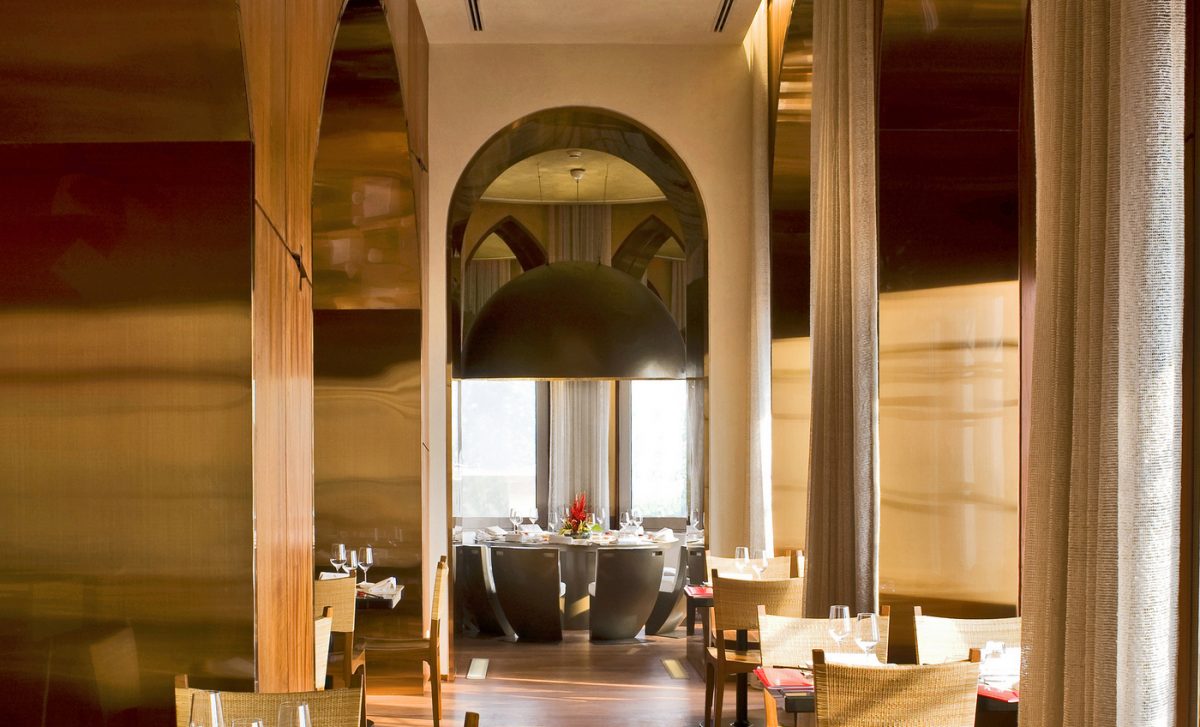 While a large part of the charm comes from Chef Morimoto's legendary reputation and the hotel's iconic status, the credit is also due in part to the team, some of whom have been working at the restaurant since its inception. Headwaiter Ronald D'Mello, who has been with the Taj Mahal Palace for more than four decades – first with the erstwhile French restaurant called the Rendezvous, then at the Chinese Golden Dragon, and finally at the Japanese Wasabi since its inception – has a lot of stories to tell. "To be honest, because Chef Hemant Oberoi had tried a Japanese restaurant way back in 1978 which didn't survive for long, we didn't expect to do great sales with Wasabi. But the management decided that we needed one Japanese restaurant in our repertoire so decided to give it a shot," he reveals. When we ask him about the early days of Wasabi, he narrates, "They collaborated with Chef Morimoto, who is so well-known the world over, and also picked this location facing the sea, which made the restaurant quite glamorous," he smiles, confiding that the restaurant was actually carved out of space that was earlier utilised as the green room for the grand Ball Room next door, where all the big parties were held! Old faithful of Wasabi will remember its earlier avatar, with glass tables, and low-level, tatami-like seating. It later got a major makeover into its current look, replete with stunning reds and brushed gold accents. D'Mello says, "We started off with a small budget, but when we got great feedback from diners, the initial budget was doubled very soon and it has just kept on increasing as everything, including the sushi bar and teppanyaki station, does so well."
While today, D'Mello and his colleague Netson Clement head a team of 11, when he first joined, he was the only experienced person to 'risk his career'. He trained the apprentices and they were all put through a two-month orientation that schooled them on Japanese terminology and names of dishes. Fifteen years is a long time in the rather fickle food service industry but luckily for the powers that be at the Taj Group, this one is thriving and it isn't powered by nostalgia alone. They have a host of regulars as well as people who come in tentatively to celebrate a special occasion and then are so enamoured of the experience that they come back for more again and again. 
D'Mello shares that their Japanese clientele usually visits for Wasabi's superlative sushi and sashimi selections. "If a Japanese person doesn't like something, s/he won't say it but will just never come back to the restaurant," he says. So, it's a true testament to their quality that they have aa lot of repeat guests who are Japanese businesspeople or expats. "I always ask them if they like the fish and 95 per cent say they loved it, while some guests have even gone to the extent of saying it was better than they ever had in Japan!" he says proudly. 
The fusion menu is popular with their Indian regulars, especially the vegetarian options. According to D'Mello, they've had a lot of Gujarati and Marwari guests from the beginning, as they have a wide variety of vegetarian dishes and are very particular about not using non-veg stocks or sauces, and always have separate utensils and fryers, a separate section for vegetarian sushi, etc. Everyone's needs are catered to and there's no snootiness that many newbie restaurants attempt in a bid to appear 'exclusive'. More than anything, this restaurant, with warm hospitality and special touches such as chopsticks personalised with their patrons' names on them, successfully makes diners feel valued and wowed, running on the famous 'Tajness' quotient, which is all about creating delight every step of the way.
A meal to celebrate the memories…
We saw this first-hand at a lunch hosted by the hotel to celebrate Wasabi turning 15, where each course drawn from their various menus had as much effort put into the vegetarian version (if not more!) as the non-vegetarian one.
SOUP: The Yurine Truffle consommé was redolent with fresh truffle and the crunch of lilybud crispies, and filling too, thanks to the natural kabocha noodles. The non-veg one made for drama with a 'balloon' chawanmushi that one had to prick open before a gorgeous matsutake and lobster shabu was poured over it.
APPETISER: This course was a hat-tip to Yakiniku cuisine, which is all about grilling bite-sized pieces of meat and vegetables over wood charcoals. In the style of the 1940s yakiniku restaurants in Osaka and Tokyo where raw ingredients were brought to the table, the Wasabi team brought a grill and cooked a variety of ingredients to perfection tableside. The vegetarians enjoyed white asparagus, sweet corn, lotus root, and the non-vegetarians tried New Zealand lamb loin, prawns and Kanpachi fish too. They also served elegant Izakaya style (a bit like tapas or pub grub) platters meant to share, which had everything from melt-in-your-mouth otoro (fatty blue-fin tuna) to sweet black garlic and matsutake mushrooms.
MAIN: The team came up with a vegetarian version of sukiyaki, a traditional Japanese dish that is prepared and served in the nabemono style. It usually consists of meat which is slowly cooked or simmered at the table, alongside vegetables and other ingredients, in a shallow iron pot in a mixture of soy sauce, sugar, and mirin. Here, red pepper spheres, tofu and tomatoes, among other flavourful ingredients, were cooked sous vide in the sukiyaki pot, along with matsutake mushrooms. The 'seafoodies' amongst us were delighted by the presentation and taste of the non-veg entrée, which was served under artistic glass cloches. The smoke inside suffused the slice of delicate Red Amadai fish (a type of sea bream) inside and complemented the umami spices it had been marinated in. The tart yuzu kosho sauce with a small kick from shishito peppers was served in a gorgeous iridescent conch shell, along with crispy seaweed and a darling baby crab that completed the 'beachy' feel of this creative plating.
DESSERT: This was a feast for the eyes and cameras even before it reached our tongues! An ingeniously layered mille feuille crepe suzette flavoured with the citrus of yuzu and the sweetness of peach, was drizzled with a whisky orange caramel sauce. A chocolate tuille custard, fresh berries and caramelised fruit completed the pretty picture, while a mild-looking wasabi ice-cream alongside turned out to be the most sensational element of them all!
Where: Wasabi by Morimoto
Taj Hotel, Apollo Bandar, Colaba,
Mumbai, Maharashtra 400001
Phone: 022 6665 3366