Pedal errors are as common as they are embarrassing. Recently, a 31-year-old man behind the wheel of a new Lamborghini Huracan and the very embarrassing fiasco of the drowning supercar got a taste of both. The stunning sportscar donned some uber-cool Gucci x Liberty Walk livery. It was en route Attersee from Mondsee in Austria when the driver and a friend made the common but calamitous pedal error. The Swiss pulled over in a parking lot of ​​the Unterach community. While turning his sports car, he mainly mixed up the brake and accelerator pedals and drove backward into the Mondsee. What followed was his heart sinking simultaneously as the vehicle sank about 15 meters from the bank with the handlebars to a depth of about five meters.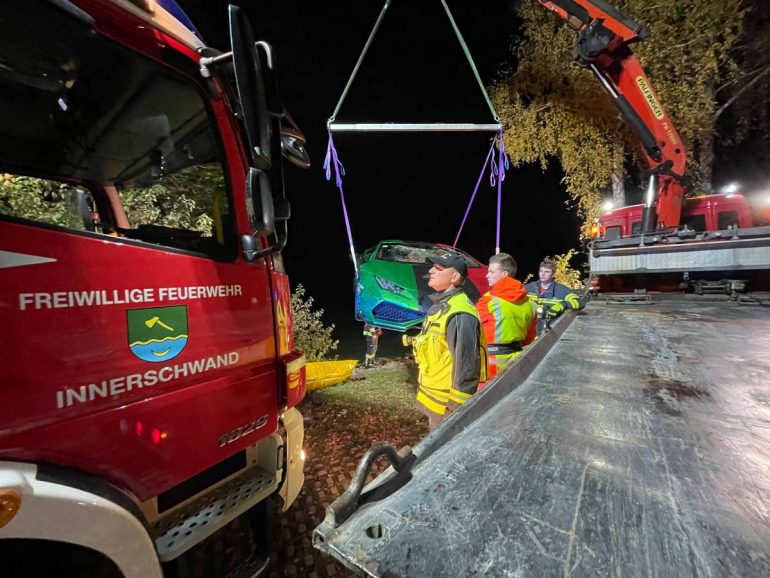 The Innerschwand and the Mondsee fire brigades answered the passenger's call for help. It was pretty challenging to recover the car that ended up 49 feet away from the shore and some 16.4 feet underwater. Pledgetimes shared the Upper Austria police response, "He may have confused the brake and accelerator pedals. The driver was able to free himself from the vehicle and swim to the bank." Fortunately, the driver swam safely back to the shore and was helped by his 41-year-old friend, who gave him a first-aid before alerting the authorities.

He suffered no severe injuries unless a broken heart counts. The poor chap, clearly a car-lover, had recently gotten some custom work done on the Lambo like a new paint job, new wheels, and tires. There was no word yet on the car's condition, and the driver received medical care at the nearest hospital. Operations manager Bernhard Strobl from the Innerschwand fire brigade reported to the scene with five fire service divers, a mountain balloon, and the crane of a tow truck to tow the car out.
He stated, "A lot of instinct was necessary to recover the valuable sports car to carefully fish the vehicle out of the lake." After the incident demanded three hours of recovery and a total of 31 emergency services, the police took a jab at the driver on social media. They joked about the driver wanting to be James Bond and turn his Huracan into the iconic amphibious Lotus Esprit. Talk about adding insult to injury!
[Via: autoevolution]