Aspiring James Bonds are being offered a five star luxury experience created by Austrian based Chalet überHaus allowing them to live the high life of a spy without the risk of being shot along the way! People who are willing to pay up to £10,000 ($14,000) a head will be chauffeured by private helicopters and in Aston Martins to complete a series of high-octane missions such as paragliding and heli-skiing.



To kick-off this adrenaline-pumping adventure guests will be met by helicopter at Innsbruck international airport and whisked away to Lech where they will be chauffeured through a private mountain tunnel to access the secretive überHaus lair, an exclusive chalet sleeping 10 adults and four children over four floors.


A professional chef, chalet manager, hosting and housekeeping team will greet the group upon arrival and be on hand throughout their stay to attend to guests' every need, creating breakfasts, afternoon teas and five-course dinners.


Keen skiers and snowboarders will be spoiled with daily heli-skiing in St Anton's exclusive Arlberg region. After action-packed days exploring otherwise inaccessible Alpine pistes with experienced guides, guests will return to their luxurious chalet to enjoy Champagne, canapés and pre-dinner martinis in front of the fire.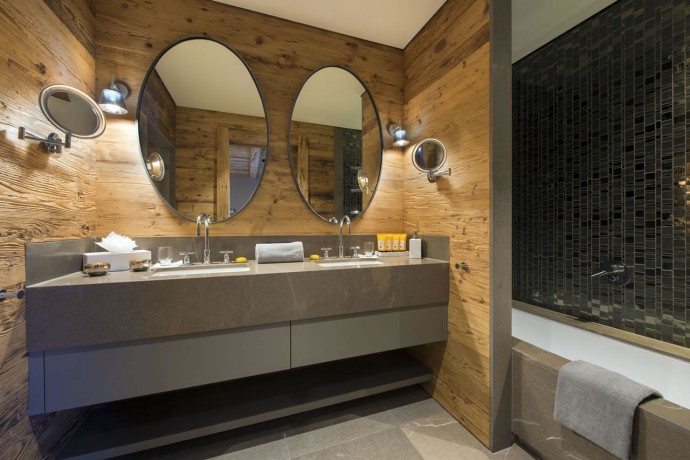 For those seeking the ultimate secret-service experience, each guest is invited to participate in a paragliding flight; a chance to soar above the beautiful Austrian Alps that feature in the upcoming Spectre film. Alternatively, those who prefer to keep their feet on the ground can indulge in night time flood-lit tobogganing, an exclusive chance to soak up the after dark atmosphere on the mountain.


And of course, for any trips that do not involve transfer by helicopter, an Aston Martin DB9, the ultimate glamorous getaway vehicle, will be at the group's disposal for the week, with a private chauffeur on call from 8:30am – 1:00am each day.
Located right in the middle of the piste, and lucxurious accommodation boasts phenomenal facilities such as an outdoor glass-bottomed hot tub, sauna, Hammam and gym, a dedicated cinema room, wine cave, private bar and a games room with pool table, all ideal for a Casino Royale inspired evening.
The experience for 10 people costs €68,600 /£50,695* in low season and €159,300 /£117,721* in high season.
About Rob Bruce –
Rob is a marketing professional with nearly 20 years experience of brand building, 15 of which have been working in the premium and luxury sector. He is also lifestyle writer covering all that is tasty, beautiful, quirky and luxurious in the world, with a focus on the UK and Scotland in particular. He's an avid consumer and reviewer of the finer things in life including food, drink, gadgets, travel and events.
You can follow Rob on his website and Twitter as well.