Everybody knows property prices have skyrocketed, especially in cosmopolitan cities like London, so why not look for luxury at sea instead. A 130-foot Dutch barge, Vega IV has been converted into a Penthouse. Moored in Battersea, South London, Vega IV was originally built in 1959 to carry coal, now however it is used as an entertainment venue. Some of its incredible features include a home cinema system, a state of the art kitchen, a walk in dressing room, under floor heating, a rain shower, a hanging fireplace and a fully stocked cocktail bar. State of the art kitchen or not, anyone who owns the place will expect exception service, which has been provided for with an on call butler 24 hours a day and room service offered by the nearby five star Hotel Rafayel. The barge has 2,300 sq ft of internal space, house three double bedrooms and has it's own outdoor terrace.



The barge can travel at up to 10 kmph and filling her fuel tank will cost the owners $3,000. The interiors took a painstaking 5,760 hours design and create. Vega IV is the first boat of it's kind, however their is space at the harbor for 9 more vessels.

Designers have already got requests for personalized features like a recording studio, a Jacuzzi and a giant fish tank for the next vessels. Owners will have use of the Hotel Rafayel's gym, beauty salon and neighboring helipad.

This "houseboat" has already peaked the interest of celebrities like Bryan Adams and Sir Ranulph Fiennes. At $2.5 million, this floating penthouse is far cheaper than similar properties on land.

Additional costs for the barge include $4,600 to be paid to the Port of London Authority annually and a service charge of $11,500.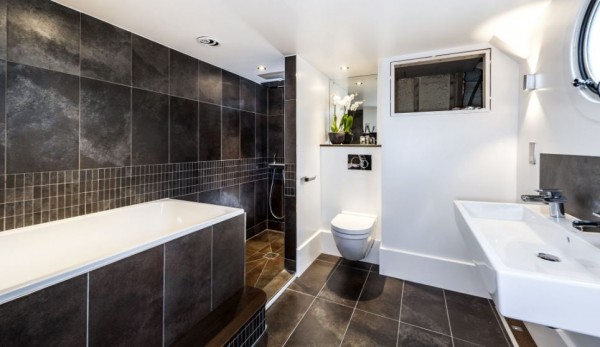 [Via – Dailymail]