We've talked about private jets plenty of times before, but every time we think we've seen the most luxe one of them all, a new model swoops in and takes the title. The new Boeing 787-8 from China's HNA Aviation Group that's ready for a July debut is definitely competing to de-throne previous holders of the title. Offering a palatial expanse of 2,400 sq. ft. to as many as 39 passengers, the 787 BBJ has a range of close to 9,800 miles even when laden with passengers, luggage, and fuel.



Kestrel Aviation Management oversaw the creation of this airborne palace. The company's CEO Stephen Vella told Business Insider that the plane can reach virtually any destination on Earth.


While many 787s have been converted from passengers' service to private use jets in the past, this is the first Dreamliner to be built specifically as a Boeing Business Jet, according to Vella.

The jet's interior images don't look like a private jet at all, but rather like suites in a 5-star hotel.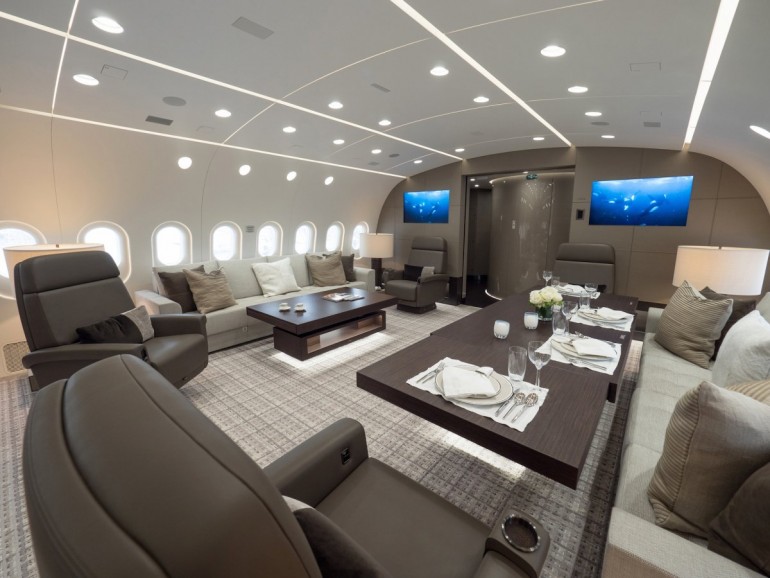 Vella also disclosed that Kestral and their partners Pierrejean Design Studios and Greenpoint Technologies had to design and engineer the aircraft's interior from scratch. The interior took a year to engineer and another year and a half to fabricate and install.

The guest cabin features 18 full-flat, first-class sleeper seats for passengers. Behind the cabin, there are separate seats for the staff.
Since a standard passenger carrying 787-8 bears the heavy price tag of $224.6 million, this overhauled version will probably cost a lot more. After all, when your ride throughout the journey is this good, who even cares about the destination?
[ Via : Businessinsider ]