Everyone is talking about the newest incarnation of the electric car, but it's starting to feel like 2020 is going to be the year of the electric motorcycle. There are more than a dozen new electric bikes scheduled for production and sale in 2020, and we're excited for all of them, but a few have risen to the top of the pack and have managed to stand out in a sea of amazing automotive engineering. With that in mind, here are the five best electric motorcycles we can expect to see in the coming decade.



5. 2021 Triumph TE-1 :
Triumph bikes have always had some serious class, and the TE-1, Triumph's first fully electric motorcycle, will be no different. This offering is part of a collaborative project between Triumph, the University of Warwick, Williams Advanced Engineering and Integral Powertrain Ltd to create the perfect bike that will give riders what they want. According to Triumph CEO Nick Bloor, "Project Triumph TE-1 is one part of our electric motorcycle strategy, focusing on delivering what riders want and expect from their Triumph, which is the perfect balance of handling, performance and usability."
We don't have any specs for the TE-1 as of yet, since Triumph just announced the plans to create an electric motorcycle in May 2019, but when the manufacturer starts releasing some info on what is sure to be a gorgeous battery-powered motorcycle, you'll be the first to know.

4. 2020 Honda CR-E MX :
Not all the bikes on this list are classy cruisers or speedy crotch-rockets. The CR-E MX is an electric motocross bike first revealed early in 2019 as a concept at the Tokyo Motorcycle Show. It uses the chassis, suspension, wheels and brakes of the Honda CRF250R motocrosser, though Honda has modified all these a little to accommodate the battery pack and electric motor.
We don't have an official release date for this snazzy little electric dirt bike, but we've got our fingers crossed that it makes it into production by the end of 2020, if not before. It might be fun to tear past someone on the trail on a nearly silent electric motorcycle.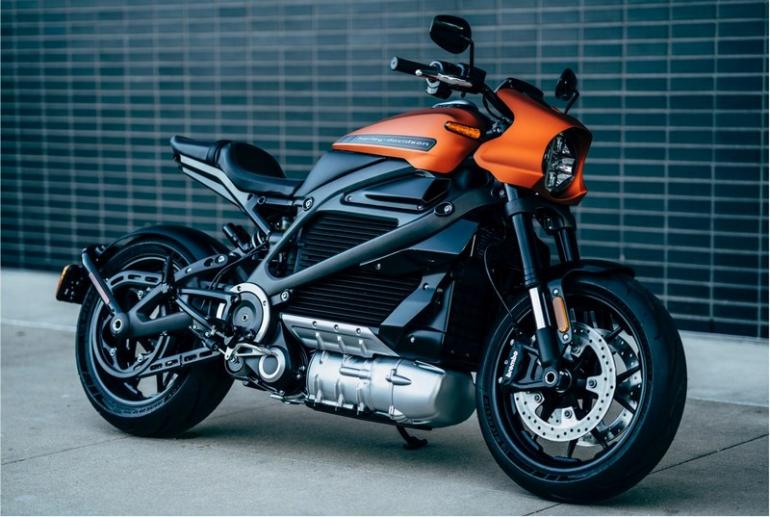 3. 2020 Harley-Davidson Livewire :
When Harley-Davidson first revealed the Livewire prototype, we didn't think much of it. Sure, it looked cool, but the biggest motorcycle name in the country wasn't going to spend its time making an electric bike, was it? We're sure glad we were wrong. The Livewire went into production late last year and is supposed to be available for purchase sometime around the middle of 2020.
With a range of 110 miles and a battery you can charge in an hour if you hook it up to a DC fast charger, the Livewire will take you anywhere you want to go. It will also keep you entertained on the way with a state-of-the-art infotainment system and H-D Connect, which allows you to remotely monitor things like charge level and battery life, and will even allow you to track your bike with GPS if someone ever steals it.

2. 2020 Lightning Strike :
Lightning isn't a new name in electric motorcycle circles, but we can't help but mention its newest model — the aptly named Lightning Strike. It's a downsized version of the LS-218 superbike, which makes it infinitely more affordable. It's got an effective range of 120 miles, and with a DC fast charger, you can power it almost fully in less than 40 minutes.
It's also one of the most affordable options on our list, with the pared-down Strike coming in at just under $13,000 for the base model.

1. 2020 Energica Ego :
Italian company Energica is another one that's been offering electric motorcycles for a while, but we're thrilled for the 2020 Ego, which premiered at the 2019 EICMA Milan Motorcycle Show. This bike is beastly, with a top speed of 150 miles per hour, and can jump from 0 to 60 miles per hour in three seconds. With no gearbox or clutch to worry about, you can gun the throttle and go — no learning curve necessary.
If you're looking for an electric superbike, think about bringing home one of these Italian beauties. You can't go wrong with an Energica, especially with the upgrades this line has gotten for the 2020 model year.
Looking Forward :
Idealists might have hoped the 2020s would bring back flapper dresses, dapper suits and parties until dawn — the next incarnation of the roaring '20s — but what it's really bringing us is the year of the electric motorcycle, and we couldn't be more excited. This list represents only a small selection of the electric bikes that will be available in the next year and the next decade, and it's only the beginning. With brands like Harley, Honda, Lightning and Energica leading the way, we can't wait to see what they come up with next.