Nobody can discount the power of social media, and when it's Facebook, companies do everything it takes to reach out to their fans in style. Porsche surely knows how to celebrate its growing fan base on FB. The exotic 911 GT3 Porsche came up within 2011 to celebrate 1 million has still stuck to us and this year Porsche marks its 50th Anniversary and 5 million fans on Facebook so things were bound to get sweeter! The celebratory dream machine Porsche promised in February is finally here. It's a blue Porsche 911 draped in awesomeness.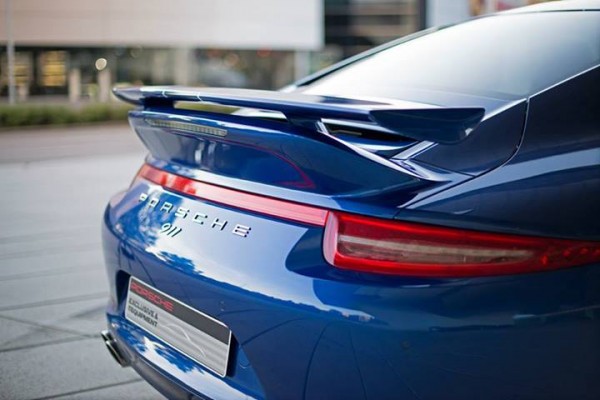 The one-off Porsche 911 has a special 'Aerokit Cup' body kit which includes a newly styled front apron with a distinctive front spoiler lip and a rear spoiler with a fixed-wing on top. They were designed and tested in a wind tunnel to maximize downforce and give it sportier handling.

The Porsche 911 sits on 20 Inch dynamic Carrera S wheels painted in white to give the special edition a sporty look and make the appearance more powerful. The white wheels really make the design pop out.

It is painted in a special Aqua Blue Metallic color and will come with unique decals that read '5M Porsche Fans'.

It is based on Porsche's 911 Carrera 4S but will come with a tweaked power-train that produces 30 more HP than normal. The increased 430 HP is enough to take this machine close to 190 Mph.

The sporty character of the special edition Porsche continues on the inside. Brushed aluminum is used on the door trims, foot pedals, footrests, and center console trim to give it a plush feel.

Porsche will also give one lucky person and his friend a unique chance to drive this Porsche 911 on the Silverstone track. If you want to have a go at it, explore Porsche's Facebook page to grab the chance.

Did you take a look at the Porsche's Facebook Cayman S edition which was etched with the face of each and every fan?