Luxury train journeys conjure up images of handsomely crafted compartments, elegant dining cars, gourmet meals, fine porcelain, silver cutlery, rich white tablecloth and an attendant waiting by your side. Evoking a strong sense of association with history and heritage, the decadence of a leisure ride and a classy journey, luxury train cruising is all things stylish and graceful. Reminiscing to the times when trains were one of the most sought after means of travel, many carriages till date are preserved from their splendor years brimming with the charm of a long gone era. Our train journeys are exciting and fascinating, not only for their luxury and panache, but also for the setting and the landscape that one can experience on our specially designed routes.

Here is a list of some stunning, luxury train journeys that we highly recommend for the evolved Indian travellers seeking inimitable experiences around the world:

5. Belmond Royal Scotsman – Scottish Highlands
A journey aboard the Belmond Royal Scotsman is a unique way to experience the ancient Scottish mountains and mysterious highland lochs, golden glens and charming villages. Belmond Royal Scotsman is a private haven of both Edwardian splendor and modern luxury, where you live every day like an honored guest at a private party. With a maximum of 36 guests, there is plenty of personal attention on board. Join your local guides for a variety of excursions that showcase the rich culture, history and natural beauty of Scotland. From the moment the piper welcomes you aboard in Edinburgh, till the time you return to this historic city, you are in the very best of hands, on the very best of trains.


Some of these trains are also available for private charter!
While the above are only a handful of unique train journeys from around the world, planning an ideal luxury vacation can be made more convenient with the help of reputed travel consultants who have the right competency to craft tailor-made itineraries as per one's preferences.

4. Golden Eagle – 15-day route between Vladivostok and Moscow
Traverse across two continents and eight time zones aboard a single longest luxury rail journey. Golden Eagle, famous for its Trans-Siberian railroad retraces the ancient route of trading and takes you across cinematic landscapes creating memories of a lifetime.


Travel the Golden Eagle Trans-Siberian Express on its classic 15-day route between Vladivostok and Moscow and reward yourself with an unforgettable experience in unprecedented luxury. Twelve en suite sleeping cars include 77-square-foot Gold Class cabins featuring power showers, individual climate control, LCD TVs and DVD/CD players that contribute to the ambience of an elegant home on rails. Dine on carefully prepared meals that use local ingredients whenever possible, accompanied by Russian vodka and wines from around the world. Some of their voyages operate through Russia, Kazakhstan, Uzbekistan, Turkmenistan, Mongolia and China.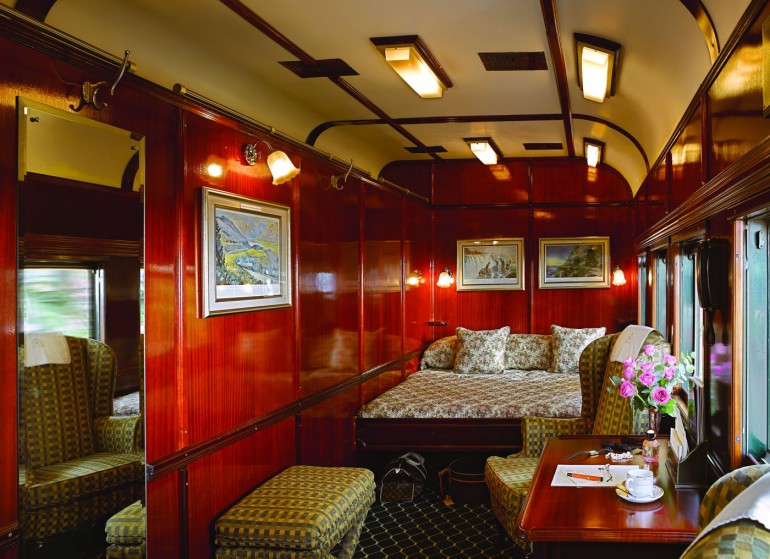 3. Rovos Rail – Eastern and Southern Africa
Rovos Rail offers luxurious and lavish train journey to discover and experience the extravagance of Africa's spectacular scenery and wildlife. The wood paneled train with gleaming luxurious cars boasts of stellar dining service and an amazing observation car attached at the end of the train. Combining the opulence of pre-war travel with subtle, modern conveniences, Rovos Rail carries a maximum of 72 passengers in 36 elegantly appointed suites. In a series of journeys lasting from 48 hours to 15 days, Rovos Rail links Africa's greatest destinations from Cape Town to Dar es Salaam in Tanzania, through the game reserves of Mpumalanga to Victoria Falls, the desert landscapes of Namibia and the magnificent Garden Route along coastal South Africa.

2. Blue Train – Pretoria to Cape Town
Blue Train is an award winning luxury train bestowed with 'Africa's Leading Luxury Train' award for two years in a row. Blue Train combines the finesse of luxury and irresistible allure of leisure providing the opportunity to explore several exotic destinations from Pretoria to Cape Town whilst experiencing opulence of the bygone era. Dating back to 1946, the Blue Train offers a unique way to experience some of Southern Africa's magnificent landscapes and landmarks. Guests indulge in fine cuisine, accompanied by some of the best wines of South Africa and around-the-clock personal butlers are on hand for the duration of the journey. Kings and presidents have graced this jewel on journeys into a timeless world of grace, elegance and romance, where luxurious comfort soothes the body and soul.

1. Orient Express- Africa, Asia, Central America, Latin America and Europe
Orient Express is a private luxury rail service provider with a collection encompassing the globe. They provide superlative indulgence with authentic experiences, evoking romance and adventure together as the guests discover several countries across six continents. Orient Express boasts of a collection of unique and inspiring journeys spanning across the globe in Africa, Asia, Central America, Latin America and Europe. Operating for over a century, the diverse collection of trains, hotels, restaurants and experiences will create unmatched memories and a journey of a lifetime.
Ms. Ratti Dhodapkar is the Managing Director at Abercrombie & Kent Vacations India. A&K specialises in bespoke luxury holidays, our travel experts have the resources, expertise and dedication to design an idyllic romantic journey. Since the company's inception in 1962 and with a global network of over 50 offices, A&K has successfully been perfecting the art of tailor-made luxury travel, helping discerning clients plan their unique holidays, crafting customized itineraries flawlessly tailored within your budget to provide truly inspiring experiences.